In the interest of completeness I'm posting my pictures here to show what the inside of the GXV3610 looks like. I couldn't find this anywhere else, so here it is:
My goal was to remove the cable from the backside of the ball and run it through the small hole I had already drilled through the exterior wall for a Cat5 cable. The two sides of the ball unscrew easily enough, but you can see from the pictures that getting the cable out would have been a challenge. The wires coming out of the jacketed cable go to three different plugs. I could have made that work, although the weatherproof grommet at the back would have been a problem. The bigger issue is what the red arrow is pointing at in the second pic. That's the mic at the front bottom of the camera. Or rather, that pair of wires goes to the back side of the mic, which is thoroughly coated with a white paste of some sort, no doubt for weather proofing. My only real option would have been to snip those wires and resolder them. Nah, that's ok.
Instead, I went to Home Depot with the mounting ring in hand and found something like this: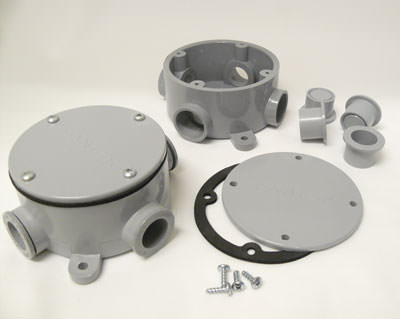 The ring does not line up with standard 4″ round electric boxes. However, it's a perfect match with this junction box. I had to add some caulk and foam backing material to seal the gap, but it's closed tight now. I'll snap a picture of the mounted box and post it.
The camera is working great. Good FOV and sharp picture. I have the 720p model, not the full HD.